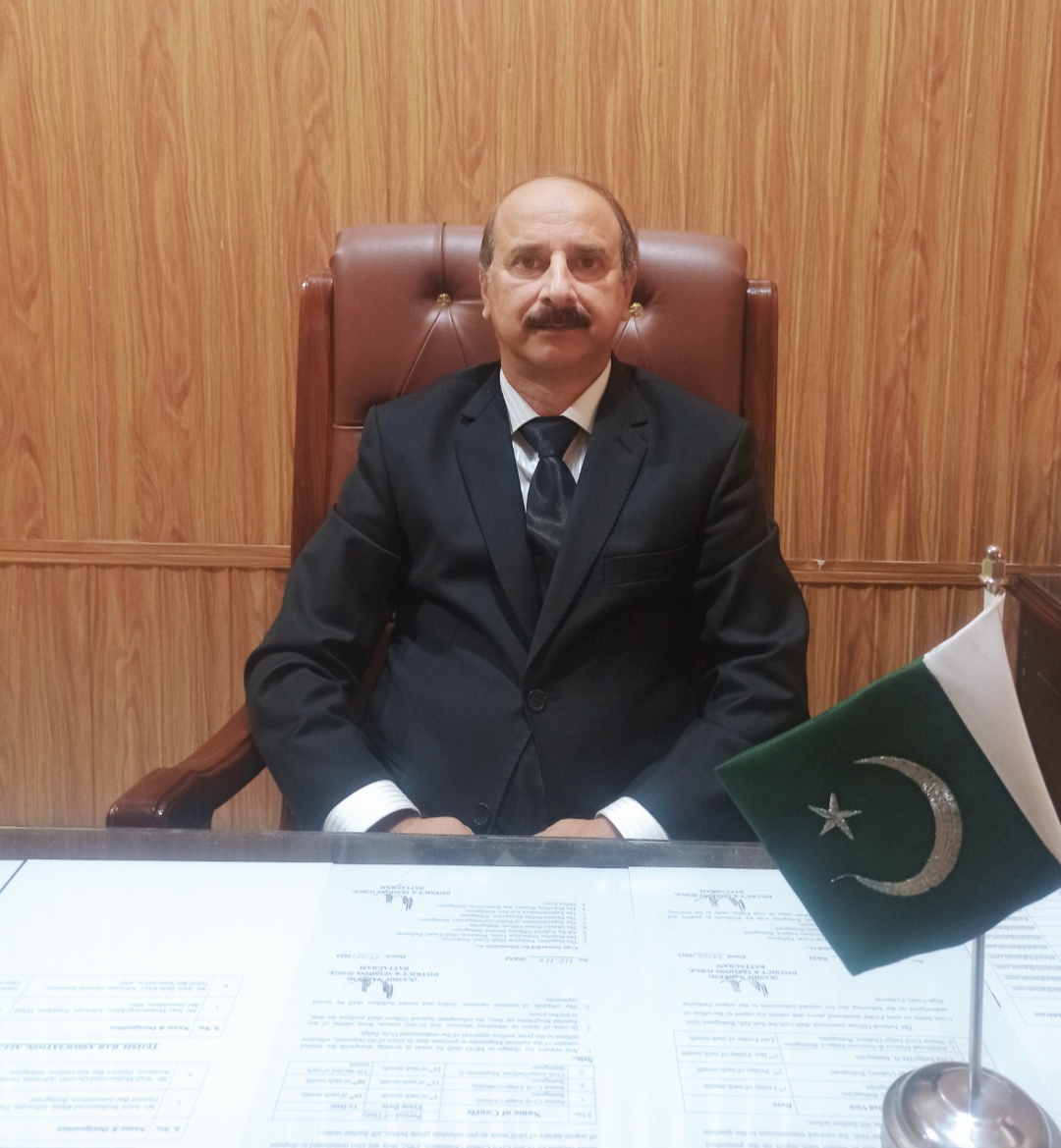 Mr Muhammad Arshad District & Sessions Judge, Battagram
Short History of District Battagram
Battagram is a beautiful mountain-locked district in the Hazara Division of Pakistan's Khyber Pakhtunkwha (KP) province. It is situated on the main Karakoram High Way (KKH)—the famous road link between Pakistan and China, and now at the gateway to the China-Pakistan Economic Corridor (CPEC). It is 227 kilometers (km) from the country's capital city Islamabad, 291(km) from the KP's capital Peshawar and 93(km) from the divisional headquarter city of Abbottabad. Spread over an area of 1301 square km, its total population as per the 2016 census is 476,612. The main language of the district is Pashto. Other languages are Hindko and Gujri. It borders the districts of Kohistan, Torghar, Shangla & Manshera.Separated as Tehsil from Mansehra district, it obtained the status of a full-fledged district in the year 1993, with two sub-divisions: Battagram and Allai.In the year 1994, the Peshawar High Court declared it as a Sessions Division. As of 31 December 2018, as many as District & Sessions Judges, Senior Civil Judges, with other Judges of the District Judiciary, have been posted in the district.Currently, seven courts, including one court of Civil Judge, at Allai sub-division, are working in the district.
Police stations:
i) Battagram ii) Chanjal iii) Kuza Banda iv) Shamlai v) Banna Allai vi) Pazang Allai.
Union Councils:
i) Ajmera ii) Banian iii) Battagram iv) Batamori v) Gijbori vi) Kuza Banda vii)Paimal Sharif viii)Peshora ix)Rajdhari x)Shumlai xi)Thakot xii) Trand xiii) Banna xiv) Bateela xv) Hootal Batkul xvi) Biari xvii) Jambera xviii) Pashto xviiii) Rashang xx) Sakargah.


Weather in Battagram
Wednesday 29 November 2023
Rainfall:
Humidity:
Temperature:
Low :




High :



Overall Report About Cases, In District Courts, Battagram